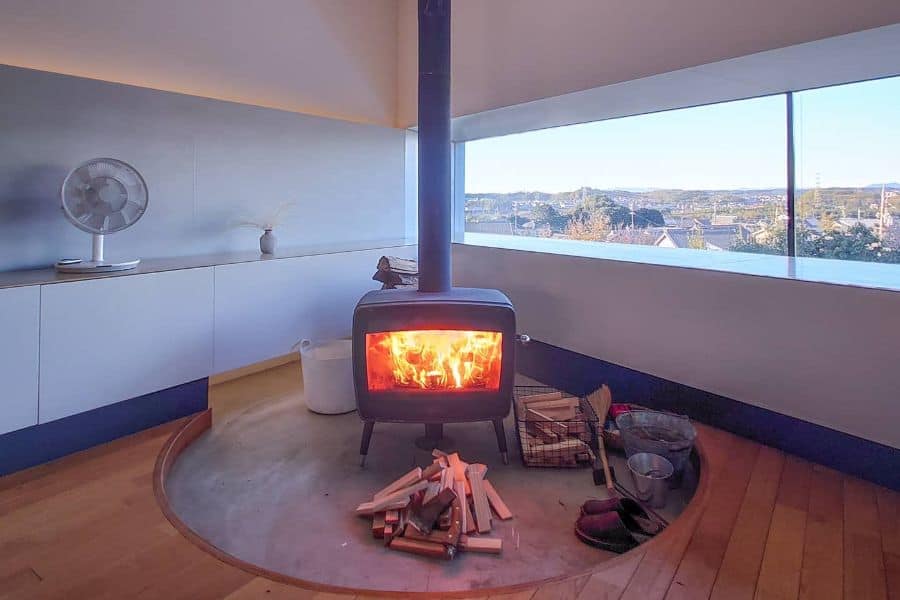 The Top 48 Wood Stove Hearth Ideas
A wood burning stove exudes a magical warmth that can make you forget about the cares of life. But to safely enjoy your wood stove, it must include a properly designed hearth.
What is a hearth? In simplest terms, it's the surface immediately surrounding a fireplace or wood stove. Hearths are made from heat and fire resistant material such as brick or stone. Think of it as a safety zone to prevent sparks and embers from catching your house on fire.
The type of hearth you choose depends on your decorating style and whether you want your hearth to stand out from or blend in with the surrounding decor. Scroll through our gallery for ideas on building a beautiful and functional wood stove hearth.
1. Brick
Brick is a time-tested fireplace surround material. It's an inexpensive choice compared to many other wood stove hearth ideas and will last a long time. Brick adds a rustic flavor to the room and is a logical choice if your home has a brick exterior.
You'll often see a brick fireplace insert inside a traditional fireplace. This helps to protect the walls from the intense heat a wood-burning fire generates.
Achieve the same fire insulation by building a brick wall behind a freestanding wood stove. Add a mantel shelf to the brick surround to make it feel more like a classic masonry fireplace.
2. Corner
The exterior wall corner is a logical location for a wood burning stove. Not only does it maximize the room's footprint, it's easy to vent the stove pipe through the wall.
Many wood stove manufacturers now offer tall, narrow stoves that are excellent for small spaces. Regardless of the burning stove size, an adequate hearth pad is necessary.
While vintage stove models often lack integrated insulation, newer, well-insulated stoves might eliminate the need to apply brick or stone to the surrounding corner walls. Even so, most building codes require a solid hearth pad.
3. Freestanding
Freestanding wood burning stoves radiate heat throughout the room. They're a great way to add affordable heating in a home without a built-in wood or gas fireplace, especially in cold climates where heating costs are high.
A freestanding wood stove or pellet stove can be moved if necessary.
Wherever you locate your freestanding wood burner, it will need a hearth for safety reasons. A good hearth serves many purposes, including outlining a zone that keeps people and burning wood a safe distance apart.
4. Jotul
Norway is notoriously cold, and the Norwegian company Jotul has become legendary for its variety of indoor and outdoor wood stove products. A Jotul cast iron stove is durable and will not be deformed even after years of use. Cast iron stove parts are also easy to replace.
Design your stove or fireplace hearth around the type of Jotul stove you get. An antique stove model can stand up to a ceramic tile or other decorative hearth design. A modern gas stove looks good above a square or circular stone slab hearth.
5. Living Room
The fireplace is usually the living room's focal point. Whether you install an electric fireplace, wood cook stove, boiler stove, or multi fuel stove, the fireplace hearth provides an opportunity to give the room a designer touch.
The wood burning stove hearth is a practical storage spot for fireplace tools and wood. If you have a coal stove, keep a bucket of coal on the hearth. Build up your hearth on a platform to raise the stove's presence in the room.
If your stove has an open grate or window, be sure to arrange your furniture so that each seat has an unobstructed view of the flames.
6. Platform
A hearth platform may serve a decorative or functional purpose—or both. Because the hearth is meant to protect your home from a fire's intense heat, it must be a certain thickness.
If a renovation includes adding a wood burning fireplace or wood burning stove, a raised hearth platform may be your best solution.
If you're installing an electric stove, a hearth is not required. However, many homeowners add one anyway because a hearth is such a classic part of fireplace design.
7. Rustic
A stone fireplace with a wood stove insert provides a classic rustic vibe. Its hearth can be made from any combination of brick, flagstone, slate, and other non-combustible natural materials.
A rustic hearth can be a simple slab, such as a stove board or hearth pad.
8. Stone
Granite and marble are popular types of hearth stone. They come in a huge range of textures, colors, and patterns. You may even be able to replicate the same type of marble or granite used on your kitchen countertops or foyer.
Soapstone is a great material for hearths and wood stove sides. It has natural veining that varies from piece to piece, making each slab a one-of-a-kind décor element. It retains heat for a long time, providing radiant heat overnight. Vermont-based Hearthstone stove products are made with soapstone.
9. Tile
Tile is a must if you want to add a decorative flair to the wall and floor around your wood stove. Available in countless sizes, colors, and patterns, hearth-friendly tile design options abound.
Solid color tile is also a good option, particularly if you want the hearth to blend into your décor instead of standing out. Mix and match tile textures while keeping to the same color. This adds interest to your stove area without taking away from other design elements in the room.
10. Wall
Some types of heating stoves do not require the surrounding wall to be covered in fire-safe material. However, most coal, wood, or cook stove models will require a brick or stone wall surround.
For a rustic or industrial touch, cover the wall behind your wood stove with corrugated metal panels. Their subtle reflective surface maximizes the light given off by a night-time fire.
11. Wood Burner
Wood Stove Hearth FAQs
What is the best material to use for a hearth?
Slabbed granite is often touted as the best hearth material for wood-burning fires. Slabbed granite has been cut into smaller pieces and mounted in concrete. This allows the granite to safely expand when exposed to heat.
How thick does a hearth pad need to be?
Building codes may vary by location, but most require a hearth pad to be at least 4 inches thick. It must also be made of a non-combustible material, such as stone, brick, or tile.
What is the difference between a pellet stove and a wood stove?
A wood pellet stove and a wood burning stove look similar but use different types of fuel. Wood pellets burn cleaner than wood logs. Additionally, a wood pellet stove requires less maintenance than a log burner stove.