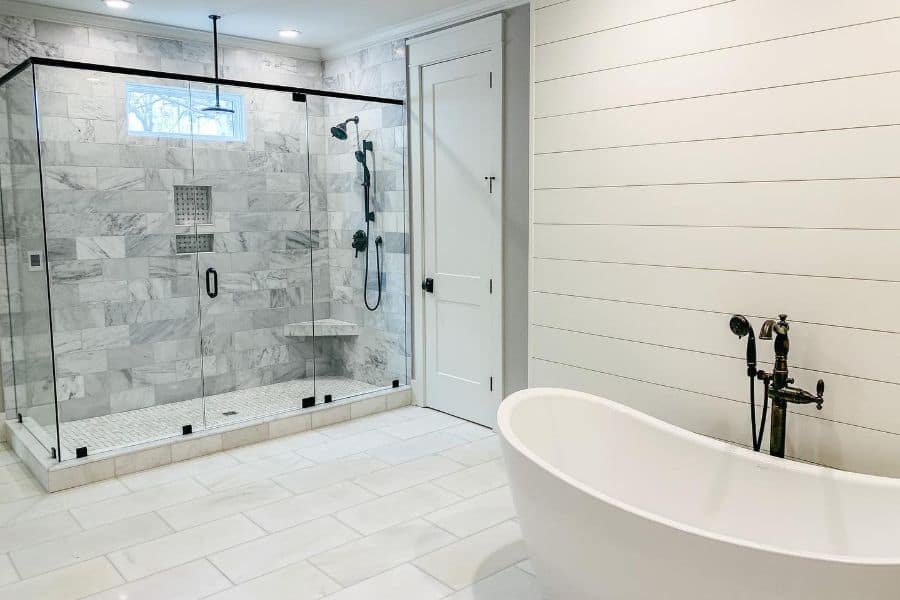 60 Walk-In Shower Ideas for Your Bathroom
"There's no half-singing in the shower, you're either a rock star or an opera diva." – Josh Groban
If you are planning a bathroom remodel, then you need to consider turning your tub and shower combo into a walk in shower. Then place a separate tub somewhere else in the bathroom as a separate usable space. Walk-in showers have become overwhelmingly popular as more people appreciate the increased space and modern look.
These walk-in shower ideas will get you inspired to change up your bathroom's design to include a walk-in shower.
1. Black and White
For a clean and bright bathroom design, use a black and white theme. It will have a slightly retro feel when done correctly.
Use white subway tile on the walls. Then a black geometric tile for the floor tile. Instead of having a frameless glass pane for the shower wall, add a thick black frame around the glass. Or you could create a window pane effect with vertical and horizontal lines.
Complete the look with black hardware for the shower head and water controls. You could also install a black floating shelf or towel bar.
2. Contemporary
Contemporary bathrooms look like elegant spaces that are up to date on modern home trends. They aren't as sleek or streamlined as a minimalist design. However, they will have clean lines, flowing curves, hard angles, and geometric shapes.
You can use a glass enclosed shower in your contemporary shower. Try adding spa-like elements. You could use teak planks to create a floor for the shower. Add soft light with hidden LED accent lighting. This creates a soothing and relaxing atmosphere.
3. Corner
A corner shower is a perfect opportunity for building a walk in shower. It could have a shower seat in the corner and a door on the opposite side. For a modern look, keep the shape of the shower square or rectangle. Then add the door on one side.
Other corner designs use an angled design. Instead of having a crisp corner opposite the wall's corner, it will be angled. This new flat surface will be where the door is located. If you don't want a door and prefer an open shower, you can build two half walls with space in between.
4. Dark
Not all showers have to be bright white. Choose a dark motif for your shower design and give your bathroom a sophisticated and slightly moody feel. This shower idea is trending with younger homeowners as they look for ways to freshen their showers.
Choose a dark grey or black shower tile. You could use black subway tile or large stone slate tiles for the shower enclosure. To keep your shower from looking like a black hole, you should use more than one type of tile with varying shades. You could also ensure there's plenty of light.
5. Doorless
Not all walk-in showers have doors. If you want to have a doorless walk-in shower, it needs to be designed so that the water doesn't splash or pour out of the opening. Otherwise, every time you shower, you'll get water everywhere in the bathroom.
There was a time when this style of bathroom shower used glass blocks. The blocks would get stacked to create a wall. It would obscure the view while allowing light through.
Modern homes replace the block with a single sheet of glass. It's significantly thinner, completely transparent, and gives your home a fresh feel.
6. Large
When you have a large master bathroom, you can take advantage of the space by building a large walk in shower. Center your bathroom design around your new shower.
This will help you make the most of your available space. Try having a rain shower head in the middle and a shower panel on either side. This gives you more flexibility in how you use your shower.
Some large showers turn this area into what feels more like a room. Make it large enough to install the tub in the shower. Instead of having a small floating shower bench, you could build a large roman style bench that extends the length of the shower.
7. Luxury
When doing a bathroom renovation on your master bathroom, add upscale materials to give yourself a luxury shower space. One smart place to invest is in the shower head. There are ones with lights, audio, Bluetooth, aromatherapy, and multiple pressure and jet settings.
A hallmark feature of luxury walk-in showers is that they are massive. Multiple people could easily enter and use the shower at the same time. They could have more than one door. There are typically multiple shower heads.
8. Minimalist
If you want to have a minimalist walk in shower, then you'll have to prepare yourself for building a custom designed shower. A prefabricated shower won't work for this design.
Many minimalist walk-in showers do not have a shower door. Instead, they will have a large glass wall that stretches from the floor to the ceiling. Then where the glass door would be, there is just an opening.
Consider using a single type of tile for both the walls and floor. This creates a single uniform look throughout the entire shower. The shower head and other hardware should be simple and streamlined.
9. Modern
Modern showers embrace lots of bright light. They will use neutral colors and lots of white and charcoal grey. Replace the single showerhead and install a complete shower system. This includes a rain shower overhead and a wall panel with several more jets.
Add innovative details to your walk in shower. Add hidden LED strip lighting to the ceiling or along the bottom of the wall. Install a skylight in the ceiling for more natural light. Build a floating bench for a place to sit while showering.
10. Rustic
Create a cabin feel in your walk in shower by using materials that look rustic. You could use rough-cut stones instead of tile for the shower walls. Then use stone tiles for the shower floor for a smooth yet non-slip walking surface. Another modern option is to use tile that looks and feels like wood. This gives you a rustic look with modern materials.
Skip the shower door entirely or build a half wall. If you must have a door, then use a glass door. The clear door will "disappear" into the surroundings and won't take away from the rustic feel of your shower.
Related read: 46 Rustic Bathroom Ideas
11. Small
You don't have to give up on your dream of having a walk in shower if you have a small bathroom. Instead of building out a shower stall, you can turn the entire bathroom space into a shower room. This is called a wet room. Instead of creating a separate shower area, the whole bathroom becomes the shower.
Build a shower wall where you have the controls and shower head. Then tile the entire bathroom floor and up the walls. The shower drain will be in the floor, and the whole bathroom floor will have a gentle slope to ensure the entire bathroom drains.
Related read: 44 Small Bathroom Ideas
12. Tiles
Tile is a must in your bathroom. It is durable and impervious to water. You'll want to choose one type of floor tile and another for the wall tile. The floor tile should not get slippery when it's wet. This will keep the bathroom safe.
Marble tile is a good choice if you want to give your bathroom a modern or luxury feel. Porcelain tile is dense, making it durable and less susceptible to wear and tear.
Ceramic tile is better for the wall because it will take less of a beating. If you want to create a unique look, you could use mosaic tile. These are several tiles, each with a different design.
Walk-In Shower FAQs
How much does it cost to put in a walk-in shower?
The cost of your walk-in shower will depend on the size and type of shower you have installed. You could opt for a prefab option that you simply place into your shower. These typically cost around $1,000 to $3,000. If you want a fully customized shower, this will cost much more. Your new shower could cost $10,000 to $20,000.
Is a walk-in shower worth it?
What's nice about a walk in shower is that you design the shower to fit the bathroom. This makes for a better-designed shower, which improves the appeal and value of your bathroom. You'll appreciate the improved design because it will make your bathroom more functional and pleasant to be in.
Does a walk-in shower need a door?
You don't have to put a door on your walk in shower. However, if you choose not to have a door, you'll likely need to have your shower custom designed. A doorless walk-in shower can be built in a corner or in place of an existing bathtub and shower combo. Your doorless shower needs to be designed to prevent water from pouring into the rest of your shower.