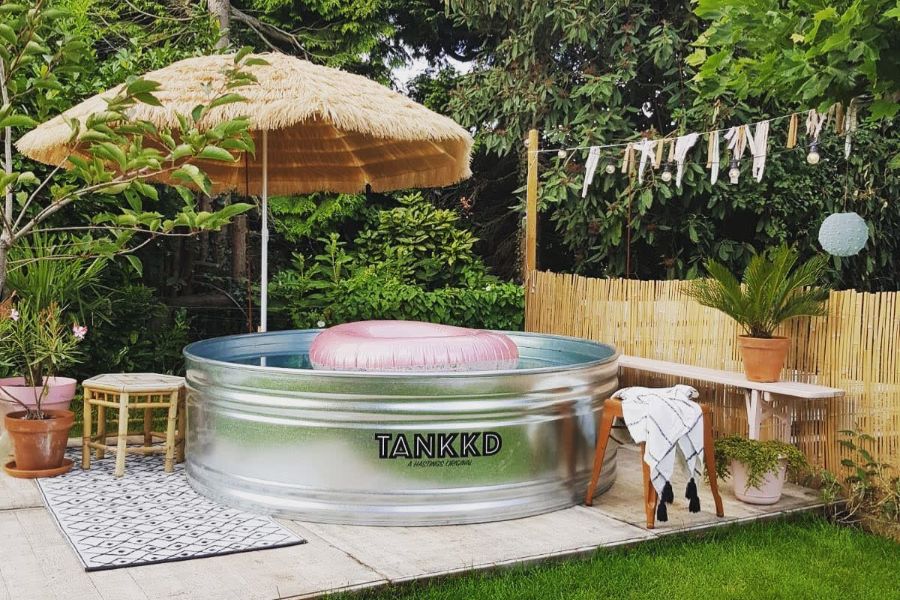 Life is cool by the pool.
If you long for a backyard swimming pool, but lack the space or the budget, a stock tank pool might be for you.
Stock tanks have long served a functional purpose on farms, holding animal feed and water. Made from galvanized metal or plastic, they have become an affordable small pool alternative.
Although a DIY stock tank pool is only about two feet deep, it's sufficient to cool you down on hot summer days.
Look through our favorite stock tank pool ideas then decide which corner of your yard is perfect for creating this little backyard oasis.
1. Backyard
A galvanized stock tank pool adds nearly as much ambience to a small backyard as a traditional pool.
Although small and not deep enough to actually swim, a tank pool is a perfect wading pool for the kids.
A large galvanized stock tank is big enough for a couple of adults to sit in neck-deep and chill on a hot summer's day.
Keep in mind that you must treat your tank pool on a weekly basis to maintain proper chlorine levels.
If you use a pool pump and filter system—and you should—you must replace the filter every few months. A metal tank pool will get hot to the touch in direct sunlight, so place it in a shady part of your yard.
You can also cut a pool noodle in half and wrap it around the tank's edge to keep from getting burned while climbing in or out of your pool.
2. Deck
A deck elevates basic stock tank pool ideas to another level. Whether you build a wooden deck around the base of your stock tank, or simply surround it with gravel and pavers, you'll want something nice to step out on when you've finished cooling off.
Using wooden pallets is an inexpensive way to build a basic deck surface.
Some people dig a hole and set their stock tank swimming pool into the ground. Then, they build a deck around it, creating the look of a small, in-ground pool.
But don't try to place your tank pool on top of an existing deck. Even a small stock pool is extremely heavy when full of water, and few decks are built to support such weight.
Another alternative to a ground-level deck is building a bench-style enclosure that is level with the top of the tank. This is great if you plan to sit on the bench and just dangle your feet and legs into the water.
Decorate your deck with potted plants, tiki torches, string lights, and other features that make it feel welcoming and magical.
3. DIY
One reason for stock tank pool popularity is that it is easy to DIY. No digging up the yard for an in-ground pool. No complicated above-ground pool assembly required.
Just have your local farm supply shop deliver your stock tank and you are ready to enjoy a summer brimming with plunge pool fun.
Make an outdoor bathing oasis by installing a shower head over your DIY stock tank pool. Tucked into a private corner, this can be an entertaining way to bathe when weather allows.
Some people even add waterfall features to their stock tank swimming pool. Others use a pool liner to help protect the tank and add a stunning blue color to the water.
Stock tank pool resources abound, and it doesn't require a high level of DIY skill to install this kind of pool.
4. Galvanized
The popularity of farmhouse style is perhaps one reason stock tank pools have become more common. Galvanized tubs and buckets have long been a staple in farmhouse décor.
This larger-scale galvanized metal feature fits in well behind a farmhouse, but it can also be styled to suit modern, rustic, or coastal décor.
A galvanized stock tank pool requires a level surface with minimal slope. If your outdoor space lacks a flat surface, use a shovel and sand to create a solid, level base for your tank pool.
Plan comfortable seating for those who prefer lounging over splashing, and provide an awning or umbrella for shade.
5. Large
Stock tanks come in a variety of sizes. The largest galvanized round tank pools are about 10 feet in diameter. The largest oval or oblong tank pools average three feet wide and eight feet long. You can purchase plastic stock tanks, but they're more expensive and not as attractive.
If you plan to inset your tank pool in the ground, plastic may be a better choice. Plastic often lasts longer than metal, and its exterior appearance won't matter when it's hidden underground.
Maintaining good water quality is important in a large stock tank pool and a filter means you don't have to repeatedly empty and fill the pool. If you prefer not to use chlorine, you can install a salt water pump instead.
6. Oval
Stock tanks are available in oval or round shapes. The shape you choose may depend on how much room you have for your stock tank pool, or simply a preference for one shape over another.
An oval tank pool is great for a single adult or a couple to enjoy a nice, cool soak.
An oval stock tank pool provides the length you need to stretch out under the water. Note that oval tanks can be very narrow, especially those shaped like a water trough. However, they are great for creating an inviting pool area in a small backyard.
7. Painted
While many people love the look of bare galvanized metal, the sky's the limit when it comes to decorating your tank's exterior. Paint the metal tank black or white for a simple, modernistic feeling.
Paint the sides with cabana stripes, or freehand a mural of tropical flowers on its sides for a more beachy feeling.
Painting may be necessary to cover the branding labels that are often painted on the side of galvanized stock tanks. When painting a stock tank pool, there are certain measures you must follow to guarantee a solid paint job:
Clean away any dust or dirt buildup.

Wipe down the exterior with plain white vinegar. Galvanized steel has a zinc coating that can make it hard for paint to adhere. The vinegar's acidity reacts with the metal and allows the paint to stick better.

Apply a coat of metal primer.

Choose a paint that's meant for galvanized metal. Stay away from oil-based or alkyd-based paints.

Mask your designs with painter's tape and have fun decorating your new backyard pool.
8. Round
Round stock tanks are available in a variety of sizes. The most popular style of tank pool is an 8-foot round galvanized stock tank, but they can be found up to 10 feet in diameter.
Round tank pools are best for kids and for multiple people to use at once. An 8-foot round tank pool can hold up to four adults or five to six children.
Round stock tank pools are a perfect step between a kiddie pool and a regular outdoor swimming pool. These little round pools are a great place for young kids to learn how to float. Follow these directions for DIY bench designs that will let you soak your feet while your kids play:
9. Small
Although stock tanks go up to 10 feet in diameter, you may want a smaller tank pool. Not only is a smaller stock tank cheaper, you will use less water—important if you live where outdoor water use is restricted or water is very expensive.
If you only have one or two young children, they will enjoy splashing around a smaller pool as much as a larger one.
If your stock tank is small enough, you may want to empty your tank after each swim and refill it with the garden hose as needed. This saves the cost of a pool pump and filter but can be troublesome to do so often.
You cannot leave water standing in a stock tank, as it quickly becomes a breeding ground for algae and mosquitos. Cover the tank when not in use, and/or use pool chemicals to control mosquitos.
Stock Tank Pool FAQs
How much are stock tank pools?
Your cost will vary according to the stock tank's material and size. Most stock tank pools cost between $200 and $450. In comparison, an above-ground pool costs between $3,500 and $15,000. The least expensive in-ground swimming pools start around $20,000.
How long do stock tank pools last?
If you take good care of it, a stock tank pool can last up to 10 years. Note that rust can be a problem in any metal tank pool, whether you use chlorine or not.
Can a stock tank pool be heated?
Yes! Buy a propane outdoor water heater to heat up your stock tank backyard pool. It's one of the best stock tank pool ideas to keep enjoying your water feature when summer heat has faded. You can also turn your stock pool into a hot tub, but heat retention may be a problem.