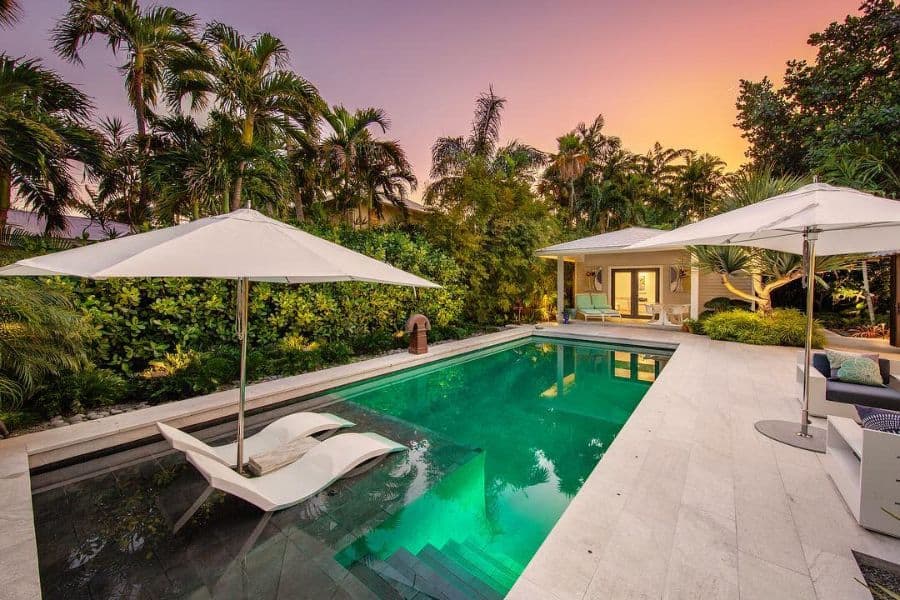 The Top 41 Small Pool Ideas
"This life is like a swimming pool. You dive into the water, but you can't see how deep it is." –  Dennis Rodman
It's blistering hot outside, and there's no hope of it cooling off anytime soon. Wouldn't it be nice if you could throw on a bathing suit and take a swim?
You could cool off, hang out with family and friends, and get some exercise. If only you had a pool in your backyard.
There was a time when you have to have a large budget and a big piece of property to be able to have a pool. That isn't the case anymore, and you are no longer limited.
You can build a pool that fits the size and shape of your property. Perhaps this is a small round plunge pool or a long and lean lap pool.
These small pool ideas will get you inspired so that you can build your own pool and be swimming in no time.
1. Above Ground
The smallest option you have for your swimming pool is an above ground swimming pool.
You could choose an inflatable pool or a stock tank pool. These are pools that you bring onto your property already made. Then you set it up and fill it with water.
This makes them similar to a hot tub. However, they don't have seats or jets like a hot tub. They're also deeper, making them better for swimming.
An above ground pool is nice because it's the most affordable type of pool. It also installs faster and is easier to maintain.
The entire structure isn't permanent, so if you need to remove the pool, you can.
Read more: 38 Above Ground Pool Ideas
2. Backyard
The classic method for installing a small swimming pool in a small backyard is with a premade vinyl liner.
They come in several shapes, so you could have a round, kidney, oval, or rectangle pool. Once you dig the appropriately sized and shaped pool, you drop the liner in. It then becomes the pool walls.
Once the pool is installed, you can build a pool deck around it. This will give the pool a custom look and give you plenty of space around the pool to relax, tanning, or just hang out.
3. Beach Entry
Think back to the last time you went to the beach. You slipped your shoes off and walked barefoot from your towel down the sand towards the water.
There's a gentle slope to the sand as the waves wash up and recede back. As you make your way into the water, it gradually gets deeper and deeper.
You can create this same effect in your backyard oasis. Plan to have an entry point for your pool. This is where you'll build your beach entry.
The edge will be even with your deck, and then the floor gently slopes into the water in a similar way to the actual beach slopes. You can make it slope as gently or sharply as you have room for.
Read more: 47 Backyard Pool Ideas
4. DIY
You can build your own backyard swimming pool. The simplest and fastest method is to dig a large hole and drop a shipping container in it.
Then all that's left is to attach a water filtration system and build a wooden deck around the edge.
There are many inground and above ground pool ideas that you can build yourself. However, you'll want to stick to a building method that you can competently accomplish.
You'll also need to obtain the necessary permits to ensure your new pool is legal. With a bit of work, you can have a custom pool made by you.
5. Garden
You already have a beautiful garden in your backyard. Now it's time to add a water feature to the outdoor space. Instead of building a pond, add a small backyard pool that you can actually swim in.
It'll feel as though you've entered another world as you take a dip in the cool water surrounded by lush vegetation.
Be careful when building this pool. Plants love water and somehow they always knows where to find it. Building a large body of water among your plants will make it tempting for the plants to invade with their roots.
The last thing you want is for the plant roots to break through the pool and cause leaks.
6. Hill
Property that's even or on a hill used to require leveling before a pool could get built. Not anymore.
Instead, an infinity pool is a perfect modern solution. This pool doesn't have a specific edge and looks as if it's endless pools that go on forever.
Build this edge on the open side of the pool. This lets you gaze out over the dropped property.
If you have a small yard that lacks a view, then you can build a retaining wall. Build up the wall to support the pool on the pool's side that sits on the lower land level.
For convenience, you'll want pavers, decking, or steps that lead down to the lower level so you can easily walk around the pool.
7. Modern
Modern pools embrace unique features and are some of the coolest small pool ideas. You could have a small inground pool that's a perfect square or rectangle. It could have an infinity edge or a wrap-around tanning ledge.
For backyards with limited space, consider building a plunge pool. These are circular pools that are more compact than a traditional pool.
You can make the pool as shallow or as deep as you want. However, if you make it too deep, you'll need to have seating in the pool.
Otherwise, you'll spend your entire time treading water. Instead, consider a shallower depth that's perfect for wading and soaking.
8. Narrow
Sometimes the small space that you have available still isn't large enough for an inground pool.
Instead of trying to build a typical swimming pool, consider a lap pool. This is a skinny and long rectangular pool. You can have it run along the side or back of your home.
For limited space, stick to one lane. If you have more room, you could have two lanes so that you can swim with a friend.
What's nice about this pool style is that you can make it as long as your property will allow.
If you have extra space, build a small sitting area at one end. It'll be a part of the pool and give you a place to sit and relax in the water.
9. Rustic
Instead of building a streamlined modern concrete pool, consider rustic swimming pool ideas.
These pools embrace a freeform pool design that has more organic shapes and curves. They also hide the construction of the pool behind rocks and stone.
The pool's construction doesn't have to be rustic to have this small pool design. Many modern pools simply look rustic but are actually constructed from innovative materials.
This gives you the best of both worlds, rustic natural charm with modern innovative reliability and durability. Many of these pools naturally blend into their surroundings to look more like a mini-lake than a swimming pool.
10. Waterfall
Spruce up your pool design with a waterfall. You can add one to a pool of any size, so even your tiny swimming pool could have the soothing soundtrack of a waterfall. This turns your backyard pool area into a tropical oasis.
For smaller pools, scale the waterfall down to fit the size of the pool. This could be a simple rock formation or even a smooth concrete structure with a water jet. You also need to position the waterfall in the right spot.
Whether it's a square, oval, rectangle, or round pool, position the waterfall in a place that makes it easily observed and enjoyed from your patio or deck.
Small Pool FAQs
How much does it cost to put in a small inground pool?
Inground pools are more expensive to install than above-ground pools. The average cost of an inground pool is about $35,000. However, you could spend as little as $18,000 for a small fiberglass drop-in shell. These require minimal customization and the fastest installation. Both of these reduce the cost of materials, installation, and labor.
What is the smallest size swimming pool?
A pool that's smaller than ten square feet is considered a small pool. You'll also want to consider the depth. Pools that are three feet or less are considered floating or soaking pools. If you choose to build a lap pool it'll need to be four to five feet deep to make it deep enough to swim comfortably.
Are pools worth the money?
A pool can increase the value of your home and enhance the enjoyment of your property. If you like to host get-togethers and parties, then it can give you an outdoor gathering point. If you live in a warm climate, it can provide you with a cool place to relax.