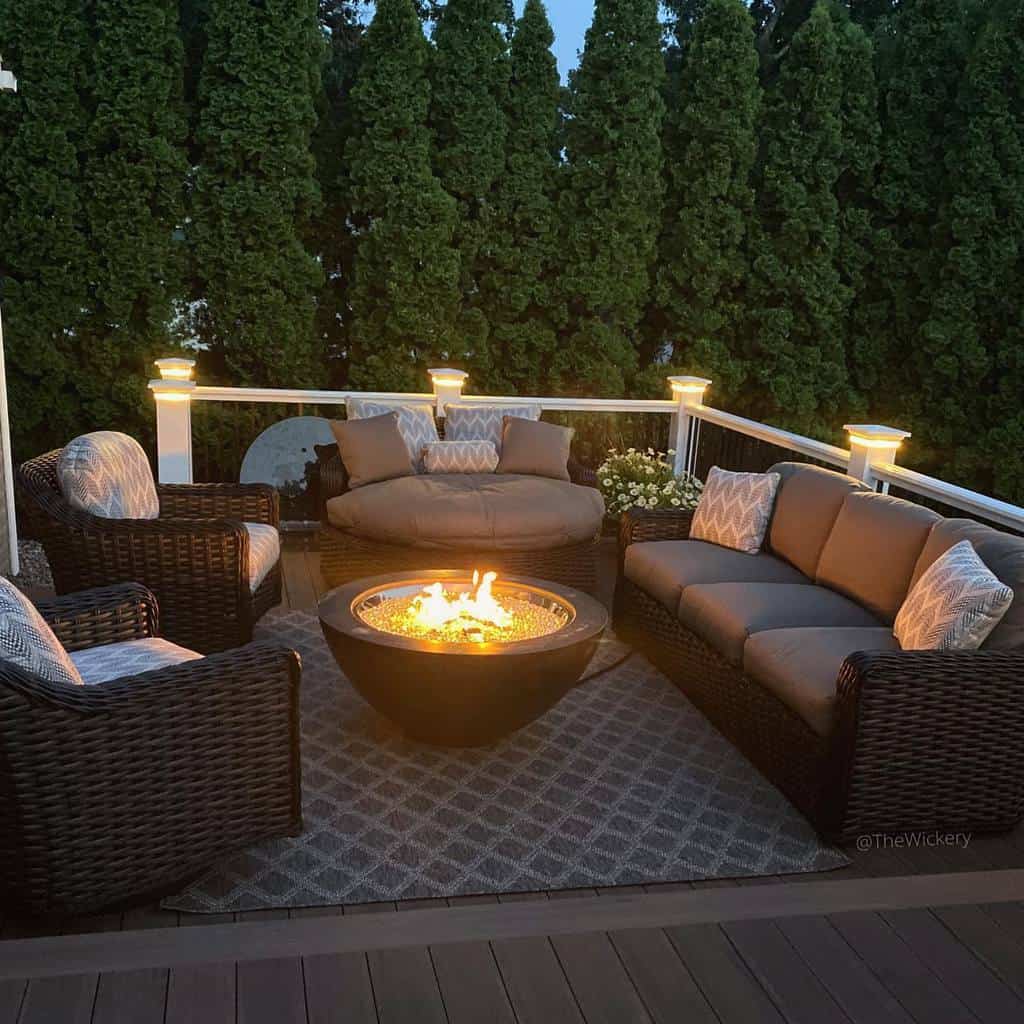 42 Small Backyard Ideas and Designs
A small backyard is still a backyard, and you don't need a giant garden to make a huge impression. So many landscaping ideas work equally well in small or large backyards.
Even a tiny backyard can be transformed into a charming outdoor living space. Scroll through our best small backyard design ideas and see how simple it is to maximize the space you have.
Read also: 45 Backyard Ideas on a Budget
1. Bar
A backyard bar makes outdoor entertaining fun. Even a simple bar idea provides extra seating and an inviting place for you and your guests to sip and sit a while.
Try building a small bar on an existing patio or porch, or attach one to a backyard shed or other outbuilding. Make it feel like a vacation year-round by going for a tiki bar design complete with a thatched grass roof and island decor.
See more outdoor bar ideas here.
2. DIY
Having a small yard provides you with plenty of opportunities to refine your DIY skills. YouTube is full of video tutorials for making everything from a simple concrete block planter to a wooden gazebo.
Raised flower beds are great in a smaller space, and easy to DIY. You can use them to grow vegetables and herbs as well. Watch this video for tips on building an easy and affordable raised flower bed:
3. Fire pit
Nothing adds nighttime ambience to an outdoor space quite like a fire pit. If there's room to add one to your list of small backyard ideas, try to make it happen. Firepits don't have to be big or expensive. In fact, anyone can build a simple fire pit out of concrete blocks, as shown in this video:
If you'd rather not build a fire pit from scratch, a chiminea is a good alternative. It occupies a smaller footprint than a traditional fire pit and adds rustic, western charm to your yard or patio.
Another affordable backyard fire idea is to purchase a small metal firepit. You can find basic models for under $50, and some double as a charcoal grill. Others include a cooler insert that's great for holding beverages when it's too hot for a fire.
See more fire pit ideas and designs here.
4. Furniture
Anytime you're trying to furnish a small space, it's vital to keep scale in mind. Oversized outdoor furniture will make a small backyard space feel cramped and crowded. To avoid this, be sure to measure before ordering any type of patio furniture, including sofas, tables, and chairs.
When you're measuring for furniture, leave enough open space to walk around comfortably. A bar and barstools are ideal for a small patio because they occupy less space than an ordinary dining set.
Take your local weather into consideration when buying furniture for an outdoor living space. If it's particularly windy in your neighborhood, choose weightier pieces. If sun beats down on your patio all day, choose lighter-colored furniture that's not prone to fading.
5. Garden
It's easy to get carried away when you see all the lovely plant and greenery options at your garden center. And it's really easy to overestimate your planting space when planning small yard landscaping ideas.
Do a little homework before you hit the garden center. Find out how much planting space you have in the yard, then research the kind of plants that you like—and that will grow well in your area. Design your garden accordingly, remembering to include concrete pavers, garden bed edging, and other landscaping touches.
6. Grass
A green lawn is a beautiful addition to any yard. However, space for growing grass might be limited in a particularly small backyard. Even if that's the case, planting grass—even just a small section—is one of the best traditional landscaping ideas. If you have a dog or small children, a little patch of green lawn is practically a must.
Grass adds valuable open space to your garden design, something that's vital to keep your backyard ideas from visually crowding a small yard. Fine fescue grass is a good low-maintenance choice for a small backyard.
You may prefer to install rolled turf instead of waiting for grass seed to grow and fill in naturally. If you want a truly no-maintenance grass in your small backyard, shop for artificial turf.
7. Landscape
Small backyard landscaping might initially feel challenging, especially if you don't have a lot of experience with yard work. However, limited space is actually a blessing in disguise because it drives you to focus on what you feel is most important to include in your backyard design.
A layered landscape design mimics nature, with low groundcovers, flowers, shrubs, and trees lining up from short to tall. This is a great design starting point regardless of your yard's size. Choose greenery, flowers, and other plant options based on how tall they will be when full grown.
Don't forget to budget for hardscaping when you're finalizing your small backyard ideas. Path pavers, fences, walls, and borders provide the boundaries for your garden and are an important design element.
8. Lights
Most people use their patio as an outdoor room, enjoying comfortable seating and dining space day and night. Just as with interior home decor, your outdoor space needs adequate lighting. This means including task lighting and accent lighting sources.
Hard-wired patio light fixtures can provide your main source of task lighting. Place weatherproof lamps on patio end tables, and stake lanterns on posts for other big light sources.
String lights come in so many creative shapes and styles now and add a magical glow to night gatherings. Hang them over your seating area, along a fence, or string them between trees for a lighted canopy.
Path and step lights are crucial for safe navigation through the yard at night. Install a few spotlights to illuminate your garden focal point, such as a sculpture or arbor.
9. Patio
If your small backyard lacks a patio, it's fairly easy and inexpensive to hire a contractor to lay a simple concrete paver patio. Make it a design feature by choosing beautiful pavers and borders, perhaps adding a paver path leading to a water feature or bench.
Look around the patio for creative small garden ideas. Attach window boxes to your railings or windows, and hang potted plants from the rafters. Both are great small backyard ideas for adding pops of color without taking up any square footage on the ground.
Consider hanging a vertical garden on one or more of your patio walls. It's a beautiful backyard idea that adds greenery to an otherwise blank vertical space. You can make a vertical garden by hanging up a wooden pallet and arranging small potted plants in the gaps. Succulents are also particularly beautiful in a vertical small garden.
10. Pergola
A pergola may seem too large to be included as a small yard idea, but remember: in a small outdoor space, scale is everything. A wood pergola or arbor may be just the focal point your small garden needs.
A simple square pergola with open rafter roofing is gorgeous over an outdoor dining area. It also provides a frame for hanging light strings. Grow climbing plant varieties around the pergola posts if you want the structure to provide shade in the future.
See more pergola ideas here.
11. Pond
Water features are fantastic backyard landscaping ideas. A well-designed small pond can add sound, motion, and life to your little outdoor retreat. It also provides a place for different plant varieties to grow, such as cattails and water lilies.
A small waterfall is relaxing to observe, with its flowing water and gentle splashing sounds. Koi fish are a great addition to a small backyard water feature, but do require a bit more maintenance. Even without fish, a backyard pond will draw water-seeking wildlife to your yard including frogs, dragonflies, and birds.
See more backyard pond ideas here.
Small Backyard FAQs
What is the cheapest landscaping stone?
Pea gravel is one of the most affordable landscaping stones. These small grey or brown stones are smooth and add elegance to your landscape design. Use pea gravel instead of mulch in your garden beds.
How do you create a low maintenance yard?
Although a small backyard is already lower-maintenance than a large garden, there are additional things you can do to make it easier to maintain. 
Install an automated watering system. 

Apply mulch in each flower bed at least 2 to 3 inches thick. This will slow water evaporation and help prevent weed growth.

Choose lower maintenance plants, such as ornamental grasses and sedge. 

Plant perennials in containers for splashes of color with less care required.