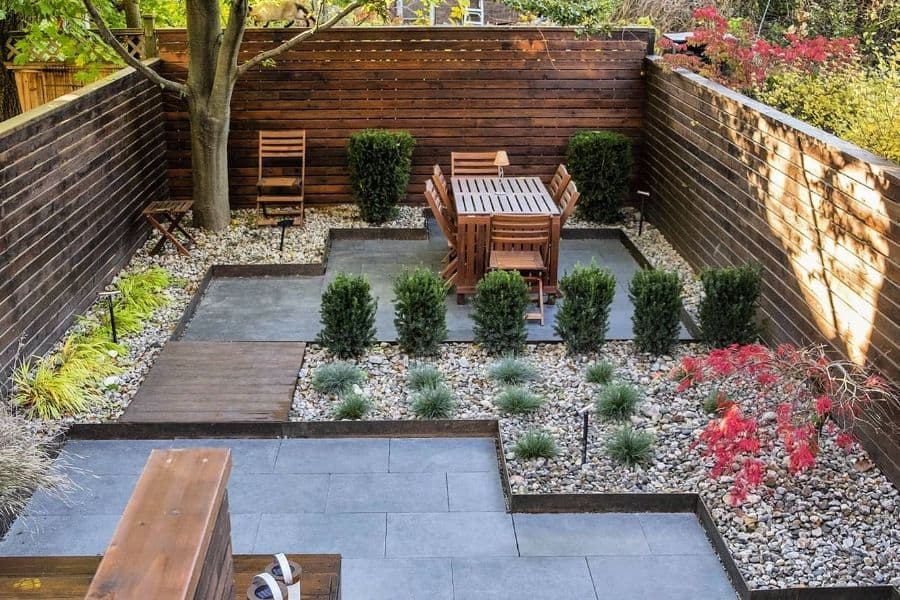 64 Low Maintenance Landscaping Ideas for Your Yard
"A gardener's recipe: One part soil, two parts water, three parts wishful thinking."
If you love a beautiful landscape but your thumbs are less than green, low maintenance landscaping may be for you. Many novice gardeners are surprised to learn how many low maintenance options exist for those lacking the time or the skill for complicated gardening.
Low maintenance landscaping ideas will vary depending on where you live. Certain low maintenance landscaping ideas, such as xeriscaping, can be tweaked to work in any climate. Scroll through our low maintenance landscaping gallery and start dreaming again of creating your ideal garden.
1. Backyard
The best way to create a low maintenance backyard is to convert as much of it as possible into outdoor living spaces.
A large stone patio means you'll spend less time mowing grass and more time relaxing. Instead of maintaining a flower bed, keep a large shade tree as the backyard focal point. Build a deck around it and add a few low maintenance potted plants.
Surround your patio or paving stones with mulch instead of planting grass. Mulch is delightfully low maintenance, especially if you spread it over a good quality weed barrier material.
It's an inexpensive way to cover a lot of ground and usually only needs replacing each spring. Rubber mulch can look as attractive as the real thing but won't break down like wood mulch.
2. Corner
The corners of your yard are great places to cut down on landscape maintenance by planting evergreens. These often slow growing plants stay green year-round and add beautiful texture to your garden.
Evergreen plant hues vary from pale green to silvery blue, making them an excellent way to add color variety to the yard without increasing your workload.
Clumping monkey grass does well wrapped around corners and along borders. It is hardy and grows well in most climates and soil types.
Design a low maintenance but high curb appeal corner on each side of your front steps by laying a curved line of brick pavers. Fill it with crushed stone, monkey grass and dwarf evergreen shrubs.
3. Country
Country dwellers with large acreage may wonder how to cut down on mowing, watering, and other time-consuming landscaping tasks.
By converting more areas into low maintenance landscaping zones, even rural homeowners can reclaim more hours of relaxation each weekend.
Plant creeping groundcover on sloped areas of your property, and don't be in a rush to clear wooded areas. Be generous with the amount of land you allot for a patio or a deck, as hardscaping equals less grass to maintain.
If your country home doesn't feel like home without flowers, opt for carefree perennials such as penstemon or brilliant blue-violet pasque flower.
4. DIY
If you want to DIY a hassle-free garden, start by learning which low maintenance landscaping plants thrive in your area. A few minutes on a search engine will provide you with dozens of ideas to DIY a low maintenance garden guaranteed to grow in your yard.
Advancements in artificial grass production have resulted in a product that looks and feels more like real grass than ever. Although it is an expensive carefree landscaping idea—around $10 per square foot—just think of all the time you'll save on mowing the grass!
5. Desert
A desert landscape with native plant selections might be the original low maintenance landscape. Desert plants are well adapted to their environment and have minimal watering requirements. While there are still desert gardens that include grass, more and more people are choosing natural xeriscape garden options.
Succulents, including cacti, come in a dizzying array of shapes, sizes and colors. In the proper desert climate, all you need is a variety of succulents and crushed rock mulch to create a colorful, low maintenance yard.
6. Front Yard
A beautiful landscape doesn't have to be complicated. A tidy front yard may consist of a shade tree or two and some shrub clusters surrounded by mulch.
You'll need to rake leaves in the fall, and trim shrubs occasionally, but the mulch will cut down on weeds and watering. Organic mulch also adds a nice woody fragrance to your yard.
If you decide you need a burst of color in the front yard, plant lavender. These durable perennial plants return year after year and spread over time. Unlike many flowering plants, lavender only needs watering once or twice a week, and their strong fragrance is a pleasant natural bug repellant.
Read more: 79 Landscaping Ideas for The Front of the House
7. Large
Whether your yard is large, average, or small, the same tips apply if you wish to have a low maintenance garden experience. Add a firepit with seating, a large deck, and a gazebo to add more living space and less plant space in a large yard.
If you just can't live without annuals and perennials that require frequent watering, you can use a drip irrigation system to help them thrive without direct assistance. A sprinkler system can make lawn maintenance easier, especially if you have a large grass yard.
8. Modern
Low maintenance landscaping can be ideal surrounding a modern home, where less is always more. A rock garden in many shades of grey is a modern welcoming touch, especially when accented with a gazing ball or modern-designed fountain or sculpture.
Oversized square concrete pavers follow the simple lines and angles of modern architecture. Create paths with them across your backyard, connecting the patio and other living areas. Simple trees, unfussy hedges, and crushed rock borders in black or white come together in an impressive contemporary garden.
9. Rock
Natural stone is an ideal material for a low maintenance landscaping. Not only is it attractive year round, rock never needs replacing. You may have to pull the occasional weed out of a crushed stone garden bed but using a strong weed barrier beneath the gravel keeps that task to a minimum.
Consider a rock garden to add dimension to a dull or flat area of the yard. Although you can add some ornamental grass or low maintenance plants, the easiest rock gardens are made from only hardscape materials.
Vary rock colors, textures, and sizes for visual interest. Surround paving stones with pebbles and outline different areas of the garden with river stones in complementary colors.
10. Shady
Shady garden zones don't have to remain barren to qualify as low maintenance. Climbing ivy is a great plant to use in a shady, low maintenance garden. Plant ivy along a dividing wall or long fence to create a living barrier that will not require much attention from you. Mix variegated and solid color varieties to make it interesting.
Many evergreen varieties thrive in shady garden areas, including hemlock, boxwood, holly, yew, and nandina.
Many of these come in full size and dwarf size varieties, allowing you to add a variety of heights and textures to the shady parts of your yard. Plant shade-loving, lower maintenance perennials such as spiderwort, viola, astilbe, and hosta.
11. Simple
You may feel that roses and other flowering plant varieties are out of reach if you need a lower maintenance garden. However, there are types that require less care than others. For example, Knock-Out roses are known for their ability to bloom with little attention. Their simple beauty can launch a garden from basic to beautiful.
Keep your garden simple by only choosing plants that do well in your USDA hardiness zone. Replace grass with no-effort ground covers like moss and low-growing clover. You'll still enjoy a blanket of green in the yard, but you won't have to mow it, ever.
Low Maintenance Landscaping FAQs
What are the seven principles of xeriscaping?
Xeriscaping is a type of low maintenance landscaping that requires little or no irrigation. Its seven principles are:
Intentional planning/design

Turf or lawn limitation

Drought tolerant plants

Effective irrigation

Soil amendments

Mulching 

Proper maintenance
What can I use instead of grass in my backyard?
If you don't want grass, but still desire a green backyard, plant an herb garden or a ground cover such as ivy or creeping thyme. Artificial grass may also be an option. Plant-free low maintenance lawn replacements include a large deck or patio, or an expanse of rubber mulch.