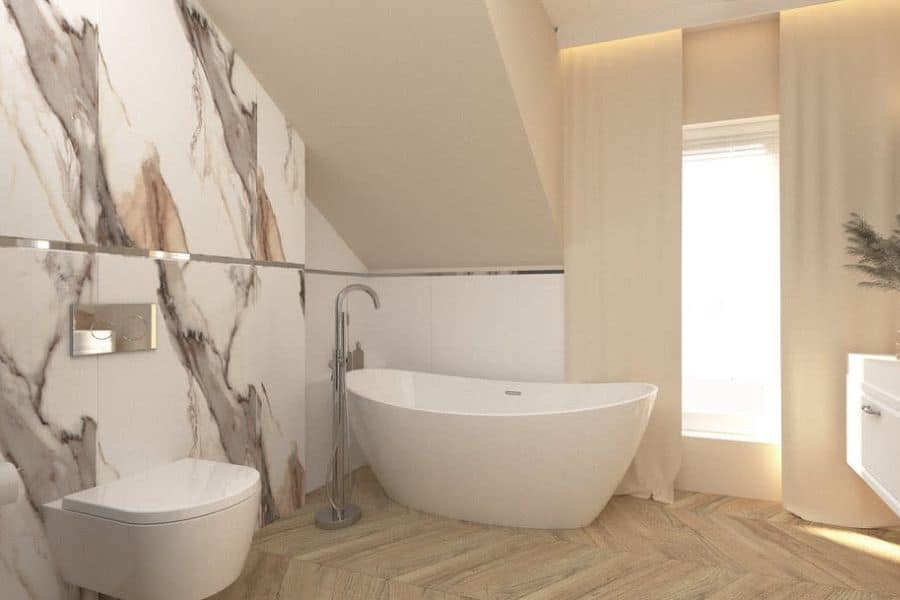 The Top 48 Beige Bathroom Ideas
"Beige is atmosphere. It's bisque, it's ivory, it's cream, it's stone, it's toast, it's cappuccino. It's well…it's magic."  – Albert Hadley
Beige has an underserved reputation as a boring, lifeless color. In reality, beige is its own neutral rainbow, from the lightest cream to the warmest wheat. A beige color bathroom provides a versatile background for many traditional and modern design ideas.
It's understandable if you're drawing a blank over how to update an all beige bathroom. After scrolling through our gallery of beige bathroom ideas, you'll see that your warmly neutral room is actually a blank canvas for any number of exciting bathroom design options.
1. Bathtub
You may think that if your shower, tub, sink, and toilet are all standard-issue white, you cannot introduce another pale color such as beige. Think of the beauty of ocean foam on sand and you realize that white and the beige spectrum were made to go together.
Whether your bathtub is white or beige, a gorgeous tan travertine surround instantly elevates your bathroom design. Beige marble or granite are elegant neutral mainstays that allow you to easily update and change your wall paint colors and other décor elements.
2. Contemporary
A contemporary bathroom is one that embraces current and future style. Contemporary design is often confused with modern design, which refers to design eras in the past.
One key to contemporary design is having neutral foundation pieces. Naturally, beige fits this definition well. In interior design, contemporary style is constantly evolving but usually includes curved lines and minimalism.
Oversized mirrors with thin metal frames and sleek black hardware compliment other contemporary bathroom design ideas. When replacing tile, consider arranging subway tile in a chevron or basketweave pattern for contemporary impact.
3. Floor Tile
Floor tile is expensive to replace, so unless your beige tile is damaged, you may want to keep it. Determine which shade of beige you have. Warm beige has a yellow or red undertone while cool beige has blue or green undertones.
Pair warm beige tile with warm colors such as burnt orange and gold. Use cool beige as a background for soothing sea green, or deep hues of cobalt or aubergine. Opt for light or dark color combinations that mimic the depth of your existing tile's hue.
If you're doing a complete bathroom remodel, choose shower and floor tile in unique sizes or patterns. Even a neutral beige tile becomes interesting when it's oversized or artfully arranged.
Read more: 53 Bathroom Flooring Ideas
4. Marble
Marble is a gorgeous material that elevates neutral colors into focal points. If you have a generous budget, pass on small ceramic tile options and go for large panels of richly veined marble instead.
Cover the master bathroom floor, countertop, and walls in glossy marble for a truly glamorous effect.
Mix and match neutral marble colors for a creative effect. For example, cover your shower walls with grey-veined marble tile, then accent borders and cut-outs with beige-veined grey tile. Purchase patterned marble floor and wall tile that incorporates the same types of marble.
5. Minimalist
Minimalist interior design can feel somewhat harsh, especially if white is the dominant color. Clicking your paint color up even one notch on the beige scale is all it takes to move from clinical to calming.
Always try to match your color palette to the predominant beige hue. For example, pair soft ivory tile with a pale mist green for a balanced, spa-like environment. Add touches of gold or bronze to add a spark to your minimalist beige bathroom.
6. Modern
"Greige" is a modern take on classic beige. This shade combines grey with beige, with greige ranging from pale putty to warm charcoal. Look for natural marble or composite countertops in shades of greige and partner it with simple silver fixtures and warm wood accents.
Shower and floor tile that looks like wood adds a modern, Scandinavian calmness to your modern bathroom. If your bathroom renovation includes purchasing new fixtures, look for a modern style toilet and a vessel sink instead of traditional bathroom equipment.
7. Mosaic
A mosaic tile wall is the perfect place to incorporate all the room's colors into your beige bathroom. Be as bold or as daring as you wish when narrowing down your favorite mosaic design ideas.
Hire a professional mosaic artist or purchase textured wallpaper that looks like real mosaic tile. The wall behind a freestanding tub is an excellent place to showcase a mosaic work of art. Install a simple mosaic border or backsplash if you want just a touch of mosaic style in your hall or master bath.
Related read: 65 Bathroom Art Ideas
8. Retro
If you purchased a home built in the 1950s, you may have inherited beige bathroom porcelain tile with a strong pink undertone. You can flex your design ideas around this hue by adding dramatic rose gold or black touches in your wallpaper and accessories.
Embrace the retro style of an almond bathroom by choosing mirrors, cabinetry, and accessories that capture mid-century style. Simple pale wood shelving takes almond bathrooms in a retro coastal or Scandinavian direction.
9. Shower
Shower wall tile is a good place to get creative with your beige bathroom design. Mix and match neutral hues with beige, white, and grey wall tile in your shower stall.
Bone is on the lighter end of the beige color spectrum. Embellish the shower in almost-white bone bathroom with gorgeous floral encaustic tile in hues of black, bone, and grey.
In a beige and white bathroom, beige wall tile looks great in the shower, bordered with white tile grout. Add a detailed shower border in tiny glass tiles that incorporate your entire bathroom color palette.
10. Vanity
If you're looking for an easy place to introduce color into your beige bathroom, the vanity is a great place to start. Relatively easy to replace, and even easier to paint, redoing your vanity can change the whole room's vibe.
If you're going for neutrals, pair a beige bathroom countertop with a white cabinet and hang a simple white and beige patterned shower curtain.
Incidentally, your vanity is a great place to look for colors to pair with beige. Your or your partner's makeup bag holds lots of color inspiration.
Anything that looks beautiful with flesh tones also works well in a beige bathroom: wine lipstick, espresso eyeliner, coral blush, and tan bronzing powder are just a few examples of cosmetic-based color ideas.
11. Wallpaper
Wallpaper is ideal for breaking up a sea of beige walls. Because wallpaper can be expensive, it's OK to delegate it to one dramatic accent wall. However, in a small bathroom or powder room, it can be affordable to wallpaper all four walls.
Turn to nature when shopping for wallpaper that coordinates with a beige floor, sink, and tub. Green is one of the best colors to couple with beige, from the palest sage green to a deep, jungle jade. Bamboo and other natural textured wall coverings are excellent choices as well.
12. Wall Tiles
Tiles aren't just for the bathroom floor. Because a bathroom should stand up to daily changes in temperature and moisture, tile is a great wall covering. Beige tile, especially travertine and granite, add easy-to-clean elegance to your bathroom walls.
Brick shaped tiles add a rustic vibe to the bathroom. Paint your cabinets, doors, and any non-tiled walls in the colors you want to add to your beige bathroom design.
Beige Bathroom FAQs
What colors go well in a beige bathroom?
Blue, white, and grey work well together, as they are the colors of sky, sand, and stone. Because beige is such a natural hue, it's best with other shades represented in nature, such as green and brown. A neutral color palette with splashes of red or purple also work well against a beige tile background.
Do grey and beige go together?
Yes. These hues that appear together so often in nature also work well inside the home. A neutral color scheme centered around beige and grey creates a calming, Zenlike vibe. It's also a light and airy background for any stronger colors you'd like to add, such as navy blue or black.