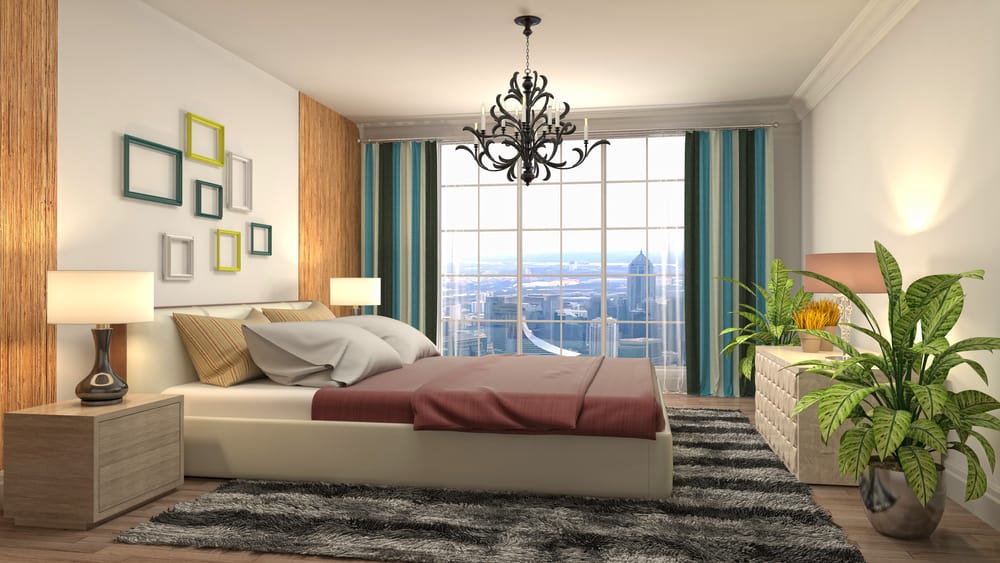 Adding curtains to your bedroom gives style and functionality to your window. They are the finishing touch to your room, like icing on a cake. They frame the window, adding texture, color, and pattern. In addition, adding curtains to your windows is a perfect opportunity for creating layers, which makes your bedroom feel comforting and cozy.
Check out these design ideas to figure out which bedroom curtain ideas will work the best for your bedroom.
1. Blinds
You can hang curtains on a window even if it already has blinds. The blinds are functional but don't do much for the room's aesthetics. Adding curtains to blinds elevates the look of your windows.
Leaving the blinds on the window allows you to better control the amount of light coming in the window. You can also angle them to direct the light where you want it or create privacy. Your blinds and curtains shouldn't get in the way of each other.
2. Blue
If you are going to hang plain curtains on your windows, consider choosing the color blue for your drapery. For an elevated curtain design that looks professional, consider pairing your plain curtains with a set of patterned curtains. A darker blue will help block out natural light so that you can sleep better.
A lighter blue can feel uplifting and refreshing. Additionally, consider the fabric your blue curtains are made out of. Velvet will be dense and heavy, blocking out the most light. A lighter weight fabric like cotton or linen will allow more natural light in.
3. Dark
For some homeowners, curtains serve a very important purpose. They block out all light so that their bedroom is as dark as possible. Blackout curtains are a must. These aren't curtains that you would hang anywhere else in your home, such as in the living or dining room. The front side of the curtains is fabric.
The backside of the curtains is a special coating that thickens the fabric and blocks light from coming through. These curtains aren't always the most attractive. They typically come in a plain color or a basic pattern, such as the Moroccan print.
4. Designed
Designing your window treatment is about more than just mounting a curtain rod on the wall and hanging a curtain from it. Decorative curtains dress up white walls and bring color, pattern, and texture into the room.
Choosing curtains starts with the size. Measure the window and then measure the wall itself. Decide where you want to mount the curtain rod and how far down you want the curtains to reach. Mounting the rod close to the ceiling and then further out on either side creates the illusion that the window is bigger than it really is. Mounting the rod further out to the left and right allows the curtains to hang next to the window, framing it. This curtain style minimizes the curtain blocking the window when they are open, maximizing natural light.
5. Green
Green is a perfect color for your bedroom window curtains. Green is an earthy color that inspires feelings of calm. It pairs perfectly with other earthy neutrals like greige, beige, tan, burnt orange, or moss.
Green can also bring life into an all-white room. Soft mint green is calming, while a jewel tone like emerald will add drama and sophistication. Instead of just using plain green curtains, consider curtains with a leafy pattern. This simulates the look of plants without having to grow plants in your bedroom.
6. Light
Hang sheer curtains on your bedroom windows to gently filter the light coming in through the window. The curtain material should be lightweight with either fine fibers or a loose weave. You can almost see through the sheer fabric, but the view is obscured. It creates a similar effect as linen curtains on a glass door.
These curtains are good for daytime use when you want to temper the amount of natural light coming into the room during the day. If your bedroom faces the afternoon sun, then they are also good for keeping the room cooler.
7. Modern
Despite curtains being used for centuries, they are still a part of modern interior design. Instead of choosing overly ornate or outdated-looking curtains, opt for modern curtains with a clean design. They could be flat panels that frame the window on either side.
Sticking with a traditional curtain design with a modern patterned print is another option. They could have a single accent line across the top. Or they could have a geometric pattern that covers the entire curtain. Don't forget about the curtain rod, as it can reinforce the modern design of your window treatments.
8. Short
Instead of buying extra long curtains that extend to the floor, you can opt for short curtains instead. They will extend just past the bottom of the window sill. These are a better option when you have furniture in front of the window. That way, the curtains are short enough to not get tied up in the furniture so that they move smoother and more easily.
Short curtains can also be good if you have pets or children. The shorter curtains won't get as dirty or covered in hair.
9. White
Adding white curtains to your bedroom is the perfect accent to your bedroom design. They add a lightness to your bedroom. While white master bedroom curtains won't block very much light, they are perfect for highlighting your bedroom windows.
If you want to add white curtains to your bedroom, consider layering them with another color. Even if that other color is a beige neutral. Hang your curtains on a dual set of curtain rods so that you can open and close the curtains independently of each other.
10. Window
Just like looking at living room ideas, you need to add more than home decor. Window treatments are the finishing touch after arranging the furniture and hanging the wall decor. A simple arrangement would be a single set of curtain panels.
A more elaborate design will have two or three sets of curtains on a single window. Consider proportions when buying your curtains. Hanging the curtains higher on the wall and extending the curtain to the floor creates the illusion that the walls are taller and the room is bigger.
FAQs
Can I use window curtains on a canopy bed?
Yes, you can. You need to make sure they fit the rod at the top of the canopy. They also need to be long enough to extend well past the top of the bed. That way, they don't get pulled onto the bed or tied up in the linens on the bed. You should be able to freely open and close them.
Are curtains supposed to touch the floor?
Curtains aren't required to hit the floor. However, many people choose to have their curtains extended to the floor because it creates a positive optical illusion. The longer curtains make the walls seem taller, and thusly, the room feels bigger. Your curtains can be any length you want, as long as it hances the look of your home.
What can I have instead of curtains?
If you aren't interested in adding curtains to your windows, there are plenty of other window covering alternatives. You could use roman shades, shutters, cafe curtains, matchstick blinds, or window film. Think about the level of privacy, amount of light-blocking, budget, and overall desired look when choosing your window coverings.